7 EPIC DREAM HOTELS TO VISIT BEFORE YOU DIE
7:08:00 PM
A GOOD HOTEL CAN MAKE or break a trip. The worst hotel in the best place is still going to make retiring after a long day an unfortunate experience. The best hotel in the worst place, on the other hand, can be something of an oasis. Take the best hotels and put them in the best places, and you've got a private slice of the vacation you've always dreamed of.
Here are 7 absolutely epic dream hotels.
1. Ladera Resort, St. Lucia
Possibly the singular spot for your perfect Caribbean excursion, the Ladera Resort represents the intersection between design, luxury, and the ideal location. Amenities include a full spa, a host of excursion experiences, and the ability to swing straight from a bench into the pool. Equally sick: Jade Mountain Resort.
2. Manta Resort, Tanzania
Ever wanted to be able to go down the stairs of your resort room, hoist the blinds, and be stared down by schools of fish? Can you get over the fact that in doing so, you'll be painfully aware that your accommodations are anchored offshore? If you answered yes to both of those questions (as I have), then the photos of the Manta Resort have probably inspired you to add Tanzania's Pemba Island to the bucket list.
Photographer: Jesper Anhede
3. Äscher Cliff, Switzerland
More of an inn and restaurant than a luxury resort, this getaway built right into an Ebenalp cliff is the best spot to take a breather on your trek up the northern Alps. The views here will keep you charged as you continue your trip through the Swiss mountains.
4. Giraffe Manor, Kenya
These images are not photoshopped. At Giraffe Manor, located in a suburb of Nairobi, giraffes belonging to the resident breeding and conservation program will join you for breakfast.
5. Hotel Kakslauttanen, Finland
If you've never heard of this place, you've probably spent an enviably small amount of time on the internet. With its infamous glass igloos and log cabins, the Hotel Kakslauttanen offers an exclusive inside-while-outside winter experience. You know, so you can be immersed in the beauty of frozen forests and incredible winter auroras while simultaneously safe and comfortable inside your own private bubble of warmth.
6. Ubud Hanging Gardens, Bali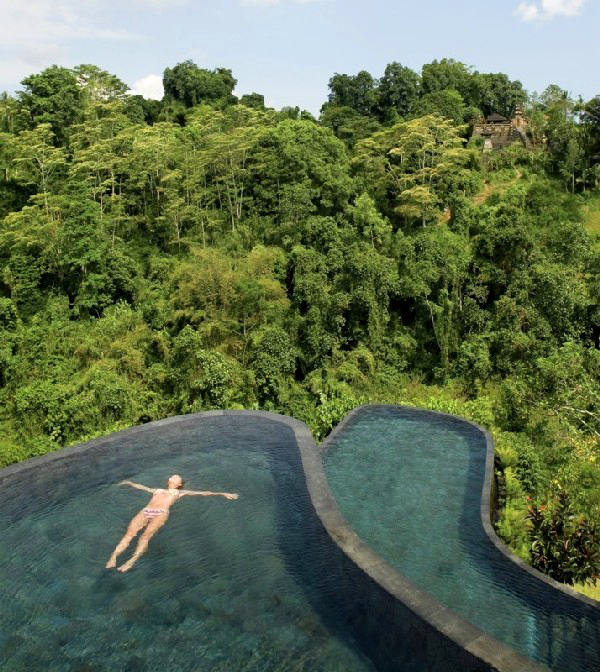 One part boutique hotel, one part epic infinity pool over the Ayung gorge, one part Payangan jungle, and one part architectural masterpiece combine to make one smooth cocktail of a resort. While the Ubud is known for its terraced tree villas, it's really all about the award-winning pool. (Literally, this pool has won awards.)
7. Icehotel, Jukkasjärvi, Sweden
At the absolute top of my bucket list, the Icehotel is like living in an art installation. A very cold art installation. Though the ice accommodations are available for only one season a year (for what I hope are obvious reasons), the hotel also offers "warm accommodations" and a host of summer activities, including "art experiences with ice, and adventures in the surrounding wilderness under the midnight sun."